 San Antonio, TX (February 7, 2022) – Methodist Physicians, the premiere network of more than 185 medical and surgical providers affiliated with Methodist Healthcare, is proud to announce the alignment of RiverCity CardioVascular's eight Downtown, South and West San Antonio and Atascosa County area locations with its network. The full alignment is expected to be completed in Spring 2022.
RiverCity CardioVascular is a comprehensive cardiology practice specializing in the diagnosis and treatment of cardiovascular and peripheral vascular heart disease. The group focuses on preventative cardiovascular and disease management by bringing current research and the latest medical procedures to clinical practice. The practice is comprised of 11 board certified cardiovascular physicians who treat all aspects of cardiovascular related illnesses.
"We are pleased with our decision to align with the Methodist Healthcare network," said Margarita M. Ontiveros, MD, FACC – RiverCity Cardiovascular Founder, Managing Member. "Our goals have remained the same in providing quality cardiovascular health to Downtown, South, and West San Antonio and Atascosa County populations. Methodist Healthcare's commitment to continued expansion and growth in our geographic service territories and the network's vast infrastructure provide the instrumental platform to continue our excellent care while allowing us to provide more accessibility to cardiovascular health."
RiverCity CardioVascular is aligning with a network rich in its dedication to cardiovascular care. In 2021, the six cardiovascular-focused Methodist Physicians practices had more than 415,000 encounters with patients for their cardiovascular needs, including general cardiology, interventional cardiology, electrophysiological cardiology, cardiothoracic surgery and heart transplant.
The Methodist Physicians network currently includes the cardiovascular practices of Cardiology Clinic of San Antonio, South Texas Cardiology Specialists, South Texas Cardiovascular Consultants and Stephen Carey Cardiology and Associates. On the surgery side, the network also includes Cardiothoracic Surgery Specialists and South Texas Cardiothoracic Surgeons.
"We're excited to have RiverCity CardioVascular align with the Methodist Physicians and Methodist Healthcare family," said Jim Palazzo, Division Vice President of Physician Services Group, HCA. "RiverCity CardioVascular's patients will benefit from our commitment to innovation and excellence in cardiovascular care."
Methodist Healthcare regularly partners with national experts to implement new technology and products to benefit San Antonio and South Texas. This includes being the first in Texas to place a revolutionary aortic valve in teens and having the first hospital in the nation to implant a newly designed cardiac mechanical pump on a patient with severe heart failure as an alternative to transplantation.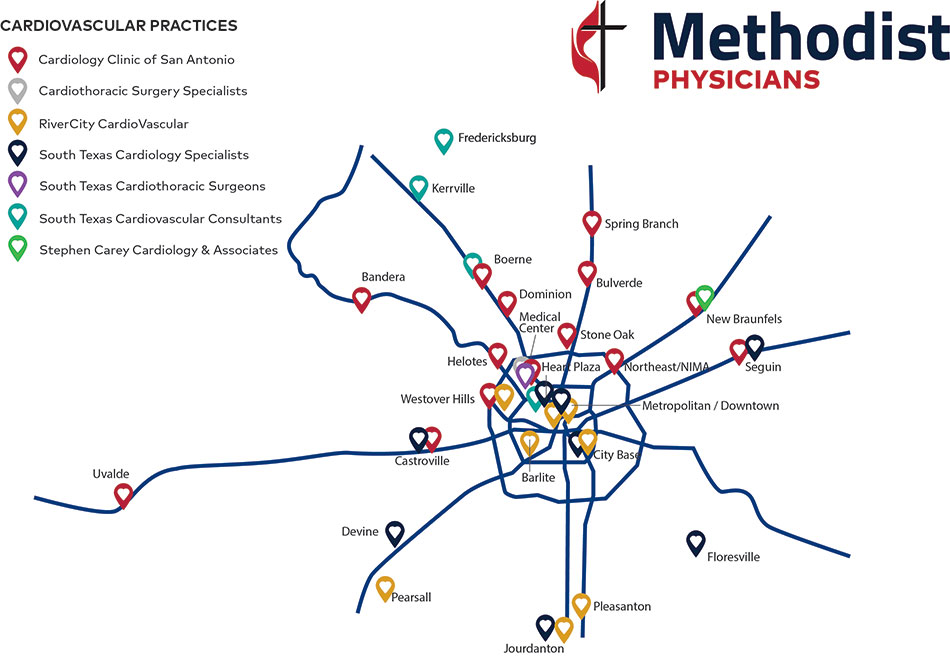 News Related Content